Wala Usik Pioneers found!
A total of 11 Wala Usik Business Pioneers, from sari-sari stores (community convenience stores), food stalls, cafes and restaurants, took on the challenge to reduce single-use plastics in their operations. Supported by the 'Wala Usik Economy' pilot project, the eleven business owners developed and now launched their innovations which include the elimination of single-use plastics and the promotion of zero-waste, circular business models and systems for refilling, reusable containers, deposit-return schemes, and native packaging for takeout to name a few.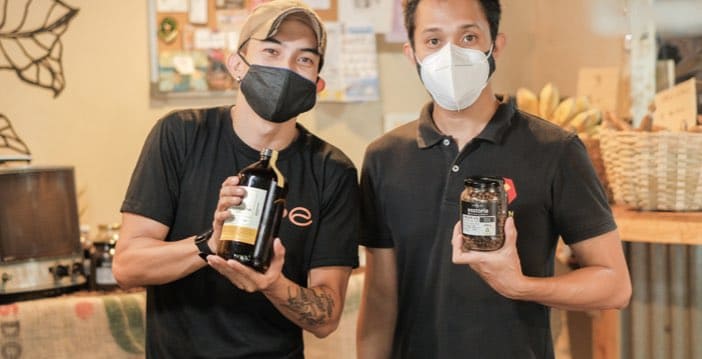 All businesses are part of the micro, small, and medium enterprises (MSME) category in the cities of Bacolod and Talisay in Negros Occidental in the Philippines. MSME are an important sector to tap for reducing plastic waste at source and for educating consumers and other businesses about how to prevent more litter from ending up in landfills and oceans.
The 11 'Wala Usik' pioneers were selected out of 113 applicants ranging from sari-sari stores, carinderias, cafes and restaurants to market vendors. They underwent workshops to design and prototype their plastic-free innovations with social marketing and business development support from the pilot project and its partners from the local government units of Bacolod and Talisay, PEMO Negros Occidental, DENR-PENRO, DTI, and other NGOs, namely, the Sowing Legacy Movement, Negros Women for Tomorrow Foundation, and the Association of Negros Producers. 
Among the Wala Usik innovators are for example Zenia Carinderia, Thirdwave Restaurant and KapiPat Café. Zenia Dorcelo's carinderia, located at the Talisay City Public Market, launched a 'balonan' subscription system for regular customers, using reusable containers for takeout and reusables for dine-in orders. Thirdwave Restaurant adopted a subscription model for home-cooked meals and started to implement a rental system for coffee brewing kits to reduce disposables, and a bottle exchange for cold brew coffee. Meanwhile, KapiPat Cafe adopted a bottle exchange system for their kombucha drinks and Esstoria coffee beans. Customers get a discount when they return the reusable bottle after their first purchase.
"As a business owner, I do realize everyday that having a business we accumulate a large amount of plastic that we dispose of every single day. Imagine for a single business we can produce 10kg of trash in a day, multiply that to 30 days, that's 300kg of waste in a month. Wala Usik Economy is a good project because through this, in my own little way I know I can contribute to save our environment".
said Laverne Traifalgar, Restaurant Owner of Thirdwave Restaurant. And Tania Rheil Garcia, Food Stall Owner from Eleven11 Shawarma Station added: 
"Even though the Wala Usik concept is new to my husband and I, we are really interested not just for us but for our children's future, that they too can experience and enjoy a clean environment. I wanted to make people realize that our planet is dying, and we as a small entrepreneur can help contribute to avoid this problem."