Spotted: Mysterious creatures in Ho Chi Minh City
Two mysterious creatures appeared at the Pandora City shopping center in Tan Phu District of Ho Chi Minh City today and surprised shoppers and visitors.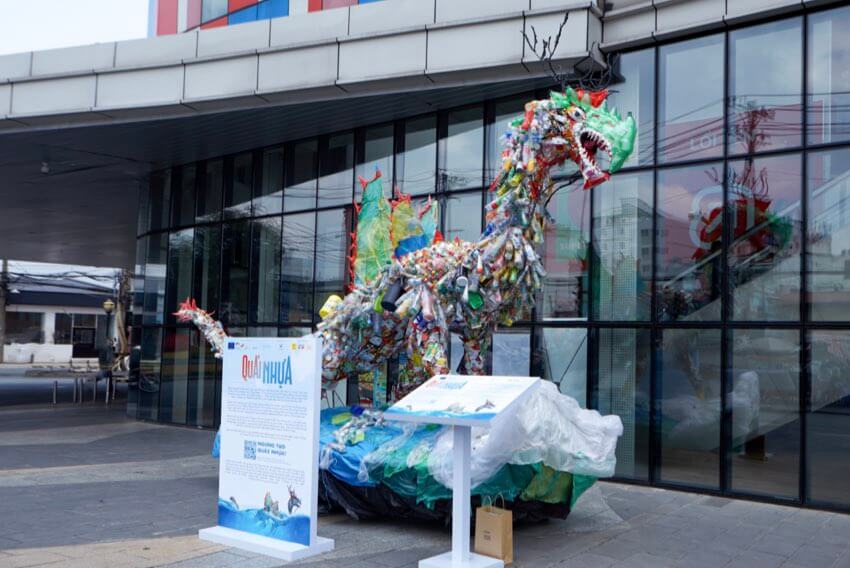 With the look of dangerous monsters made out of single-use plastic waste, the "Plastic Beasts" aim to raise awareness about single-use plastic pollution and its dangers to the environment and human health and inspire the community to take collective action based. They are part of the "Plastic Beast" campaign organised by CHANGE on behalf of 'Rethinking Plastics' and supported by further business and media partners with the message: "Stop creating plastic beasts!"
The campaign launch was attended by around 100 guests from local authorities, diplomatic representations, businesses, NGOs, academia and media. The guests shared their thoughts and aspirations about the plastic pollution crisis and what everyone could do. They also had a chance to look at the Plastic Beast up close, to learn about plastic pollution as well as solutions and ways to reduce it. 
Counsellor Rui Ludovino of the European Union Delegation to Vietnam explained: "The Plastic Beast aims to inform consumers about sustainable consumption and production of plastic and the impacts of littering on the environment. We hope that this creative approach will contribute to more awareness of Vietnamese citizens, especially the young generation, on reducing single-use plastics and that it will accelerate the collective actions for the prevention of plastic pollution." 
The Plastic Beast borrows the image of an imaginative monster, similar to the legendary Vietnamese "thuong luong" or the Loch Ness monster, to convey how dangerous and scary plastic waste can be. It creatively conveys the message of how the plastic wastes we discharge daily are silently drifting through rivers and waterways and then into the sea, filling up the oceans with marine litter. The models were built out of plastic waste, which was collected by community members, cleaned by volunteers and which will be recycled after the campaign. One of the two models visualises the amount of plastic waste that an average Vietnamese person discharges in a year, which is an estimated 37kg, according to the findings of the National Plastic Action Partnership (NPAP). 
CHANGE's Managing Director Thoi Thi Chau Nhi said: "The current plastic pollution is massive. No single organization can solve it. It will require us all to work together: government, businesses, scientists, and the community. We also have realized how challenging it is to turn from awareness to real behavior change. This Plastic Beast is a creative tool for us. We want to use the image of an underwater monster to emphasize that, with our habits of using single-use plastics, we are creating many "Plastic Beasts" and causing a lot of harm to the environment and our own health. Of course, it will in addition take many other interventions and innovations, and especially policies, to actually reduce single-use plastics consumption. So I hope you all will join us in this challenging mission." 
To make the event space even more engaging, the campaign partners organized many activities to interact with and inspire people, especially young ones. An information station displayed the campaign information, images, models, and various booths offered mini-games and quizzes to engage and challenge the visitors and showcase solutions to plastic waste pollution. The Plastic Beast and activities will be open for the public until May 15 in various shopping malls, and online until May 22 on the campaign website quainhua.org.  
Take a look at how the Plastic Beast emerged in our video.