Single-Use Plastic Free Schools
Rusty the Turtle, Marley the Manta Ray and Steeb the Plankton are comic book characters who go on big adventures.
The books were distributed to nine primary schools in Indonesia, where children could read not only about how to overcome life's little challenges but also about fighting plastic pollution. They are part of a fun learning approach that helps children understand the risks of plastic waste. The aim is to change their plastic habits early on in life – allowing children to choose sustainable alternatives to single-use plastics such as bags, straws, bottles and cups. Plastic habits are key contributors to the plastic pollution crisis on land and in our oceans. If we change them early on, they are likely to remain for a long time and influence family and friends.
WHAT HAVE WE ACHIEVED IN 9 MONTHS?
 1. Teachers become multipliers
Around 90% of the world's population attended primary school. If we want to change the plastic habits of future generations, this is a good place to start. Drawing on tools for behavioural change, we trained 45 teachers in Malang, Mataram and Lombok in the theory around plastic habits so that they could inspire school children to help create a plastic-waste free world. While the training workshops provided the teachers with the expertise they needed, a specially designed handbook outlined all the activities and provided guidance. The teachers used easy, fun and interactive eco-education activities to bring this knowledge into their classes – from songs and dances, comic book readings and puppet theatre performances to a plastic hunt and fun experiments in nature. 
"Imagine your actions having an influence not only today, but also tomorrow, next year, and for the rest of your life. By training teachers, we created a multiplier effect for our activities. We provided them with fun, engaging and effective activities to do with their students. One teacher can inspire at least one class each year – a valuable multiplier effect. Children start to care about the health of our ecosystems and reduce their use of plastics, which can have a life-long impact on plastic pollution."
Roger Spranz, Co-Founder of Making Oceans Plastic Free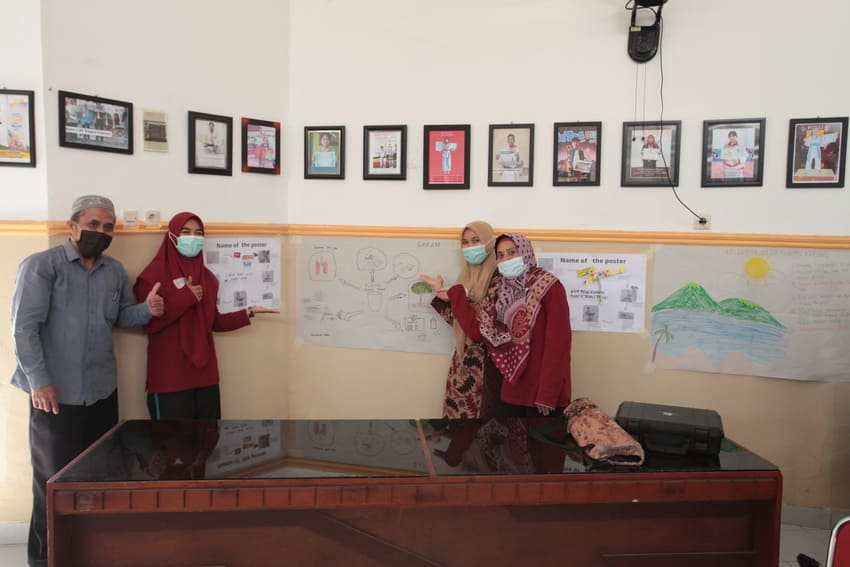 2. School children break with plastic habits
The trained teachers passed on the insights from the workshops to more than 1000 school children. Over a period of three months, the children learned how to consume less single-use plastic in their daily routine. They read stories together, built a puppet theatre and acted out the stories of sea animals affected by plastic pollution. By becoming part of the stories, they were able to empathise with the struggles of the animals in the oceans and understood how they could be part of the solution. Using what they'd learned about alternatives to plastic usage, new reusable water bottles and reusable bags, they changed their daily routines one bag at a time. Plastic diaries and surveys showed that they managed to reduce single-use plastics in their lives by 40% – an enormous success and beyond what was expected from the programme. It confirms that behavioural change is easier when people are young, and hopefully lasts a lifetime.
"When the teacher gave me a plastic diary table, it made me realise how much plastic I use in only one week. I learned how to reduce plastic waste myself and in the world. I know how big the effects of plastic pollution are. It's not only small amounts of waste and small effects. Even a small piece of plastic waste has a big impact." 
xx, Student xxx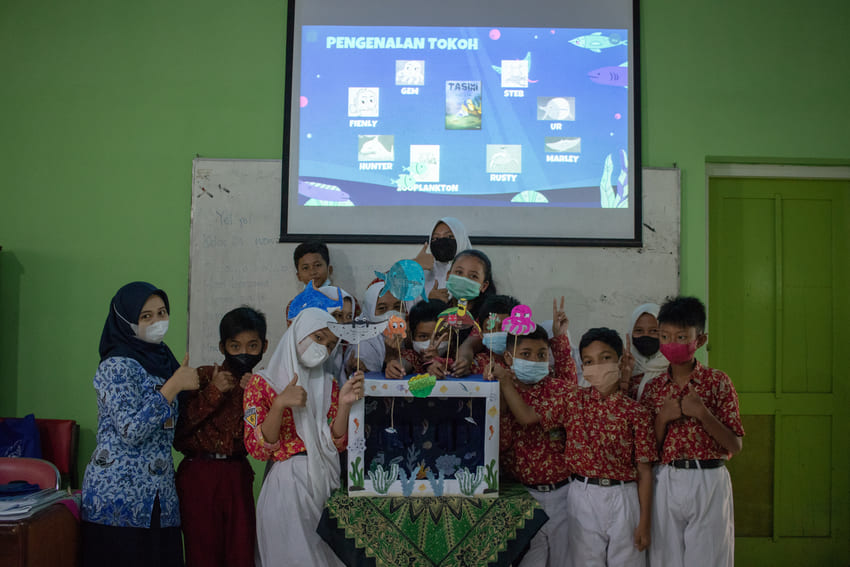 3. Spreading the word
 Through our programme, we kickstarted a process with the kids in the participating primary schools. They now help reduce plastic pollution every single day. And they also inspire other family members and people in their community. The standards we taught them spill over to others and can hopefully have an impact on a larger scale. For interested schools and children's groups, the specially designed handbooks are available to download online free of charge.
HOW WILL THIS INITIATIVE CONTINUE?
The know-how, materials and strategies are available to all. The specially designed handbooks can be downloaded for free by anyone working with children.

The activities can be replicated and upscaled in other schools and regions. This requires the financial and political support of interested partners.  

The implementing partner

Making Oceans Plastic Free

plans to continue measuring students' behaviour to understand if the new plastic-free habits will stick, gradually wear off or become stronger.
Implemented by: Making Oceans Plastic Free e.V./ https://makingoceansplasticfree.com/
Partnered with Yayasan Green Books Indonesia
For more information on the partner:
https://makingoceansplasticfree.com/