#PlastikTaraAsik: An awareness raising campaign to show that "plastic is not cool"
Raja Ampat is a little piece of paradise on earth. Located off the northwestern tip of New Guinea, the Indonesian island group has some of the richest underwater biodiversity in the world. Since 2010, Raja Ampat, and the nearby city of Sorong, have seen an influx of tourism and a population increase of 50 per cent, generating more waste than can be handled.
We initiated the #PlastikTaraAsik campaign to increase awareness about the threat of plastic pollution and highlight alternatives through sustainable consumption in local communities. "Plastik Tara Asyik" means "Plastic is not cool" – the slogan features on murals, in documentaries and on social media. Between October 2021 and August 2022, our creative activities reached thousands of people with the support of the Sorong City Environment Department and The Education Office. 
"The challenge is how to change people's minds and reduce their personal consumption of single-use plastics. Changing people's habits is not easy, but if we don't start now, when will we? Let's begin with the things we can do first. #PlastikTaraAsik is a creative media campaign that educates people about sustainable consumption and how to reduce single-use plastics."
Prety Christina, Campaign Coordinator of #PlastikTaraAsik 
AND THIS IS WHAT HAPPENED IN DETAIL:  
Producing documentaries
Together with local filmmakers, we produced five documentaries showing humans as the biggest polluters of our oceans and how community initiatives are tackling plastic pollution. The films portray the many people in the Sorong and Raja Ampat area who use local solutions to consume more sustainably. While three documentaries were based on submissions from an idea competition, two of them were created by the Misool Foundation. The documentary #PlastikTaraAsik was first screened in Sorong in early April 2022 and was accompanied by presentations and a discussion involving hundreds of people. More screenings followed in local communities, cinemas, public institutions and 26 schools; in total, around 2,700 people watched the film in 44 screening events. 
#PlastikTaraAsik murals 
In January 2022, four local artists produced 39 #PlastikTaraAsik mural designs in Sorong. The artists – two men and two women – were all between 19 and 25 years old, and were chosen through a competition, which received a high number of entries. They were joined by another local artist, who had the idea of painting murals at primary and secondary schools. As a sign of commitment to start reducing single-use plastic, the pupils would stamp their handprints on the walls after they had watched the documentary #PlastikTaraAsik. 801 pupils took part in creating 20 murals.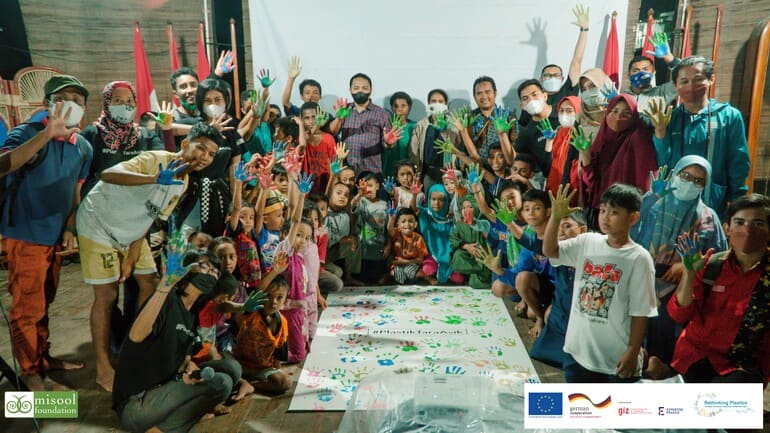 #PlastikTaraAsik on social media
At all campaign events, we invited participants to talk about their concerns around marine litter and their ideas for solutions on Instagram using the hashtag #PlastikTaraAsik. In just three months, 2,900 people shared their experiences, posted photos and videos or took part in a five-day challenge to reduce plastic. These activities form part of a strategy to create a critical mass of concerned citizens that encourages the government to introduce tighter regulations to reduce plastic and ban single-use plastics. 
Cleaning up the paradise
We organised clean-ups at eight different locations. Around 1,200 people joined us and collected 750 kg of mixed waste and 515 kg of recyclable waste. 
Implemented by: Misool Foundation