Plastic beast in town: an awareness raising campaign about plastic consumption
An enormous beast was in town. Thousands of people gathered, eager to take a look. But the monster didn't present an immediate danger to the spectators: it represented the long-term threat that plastic waste poses to our world. The beast was made using 37 kg of plastic waste – the amount of plastic waste each Vietnamese person throws away on average every year.
The Plastic Beast was the centrepiece of a touring exhibition in shopping centres around Ho Chi Minh City. Our project used the exhibition, along with accompanying games, social media campaigns, posters and videos, to share information about plastic pollution and what can be done to combat it. 
"My heart was broken when I saw how marine species were dying because of plastic waste. The 37 kg plastic beast is horribly impressive. I see myself changing after visiting the exhibition. I'm trying not to take plastic utensils when I order food."  
"I'm inspired by the meaning and messages of this project. It's made me reflect – I can't believe what I'm producing in one year. Thanks for the warning. I'm thinking hard about my impact on our future."  
Voices of exhibition visitors
AND THIS IS WHAT HAPPENED IN DETAIL:
Stop creating plastic beasts!  
In April and May 2022, our Plastic Beast drew in more than 8,700 visitors in the shopping centres and universities in Ho Chi Min City that we used as exhibition spaces. Our beast refers to the mythical "Thuong luong" – a terrifying underwater monster often depicted in Vietnamese folklore. Nowadays, single-use plastic is a far more dangerous monster that can cause massive destruction to life on earth. This is what our beast represented. Using educational displays, quizzes and games, we informed visitors about the negative impacts of plastic waste on the environment and encouraged them to stop "feeding the plastic beast" by reducing their waste and preventing plastic pollution. When asked about the impact of the exhibition, 88% of visitors said that they wanted to start living a greener lifestyle, and 78% wanted to find out more about the problem and possible solutions. 
The plastic items used to create the beast were borrowed from organisations working on plastic waste collection and used in such a way that they can be returned for treatment or recycling after we finish exhibiting the beast but so far, 12 entities have indicated their interest to host the exhibition in the future to raise awareness of plastic pollution in their communities.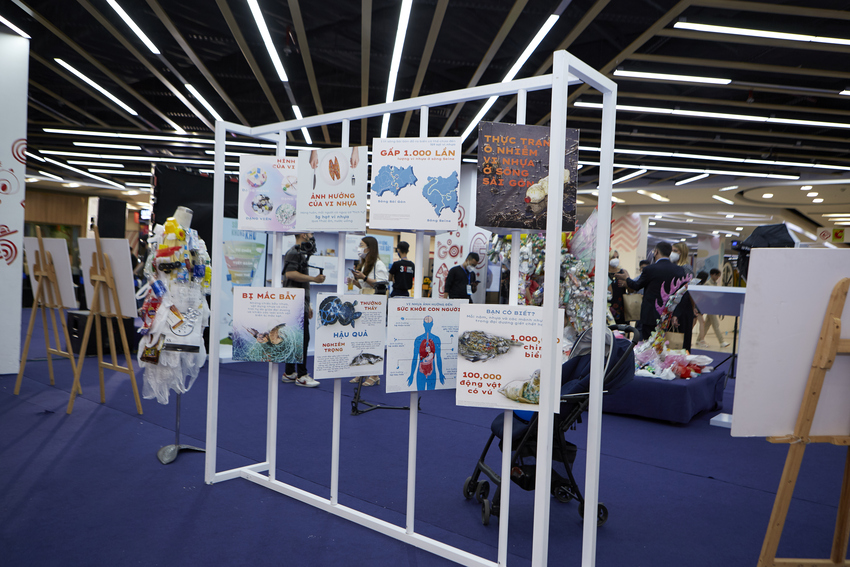 Spreading the message far and wide
We engaged many businesses and organisations to help us spread our message. 470 posters were displayed in around 130 stores, restaurants, apartment blocks and lifts to raise awareness about the problems of plastic waste. This reached many visitors daily. Over 4.5 million people followed the Plastic Beast around on social media. The microsite quainhua.org was used as an information and story platform where the community could find out more about the campaign and follow the Plastic Beast's journey. More than 200 people took part in a survey on their plastic consumption, at the end of which they committed to take action and registered to receive more information on the green lifestyles.
SUCCESS FACTORS OF OUR CAMPAIGN:
Think outside the box: Creative campaigns combined with community engagement activities are key to achieving success. Interactive activities and designing the exhibition in an engaging way ensured the interest of the community.

Work with multiple stakeholders: Spread awareness and educate the community about plastic pollution; encourage partners, including businesses, to take action and change their behaviours.
 Implemented by: CHANGE Vietnam
Website: https://changevn.org/en/home/
Facebook: https://www.facebook.com/CHANGEvn/
Youtube: https://www.youtube.com/channel/UCKODN7oVOQjKczTCbtd10CQ