Innovative Plastic Mulch Film Collection
Jin Shuqin has a vision: "I hope that we can work together to revitalise our earth, so that we have bluer skies, cleaner waters and better soil". Shuqin heads the Research Center for Rural Economy in the Ministry for Agriculture and Rural Affairs. Here, he works on solutions to reduce the impact of plastic mulch film on soil.

Mulch film is used by farms to cover and protect young plants, but the thin cover is extremely hard to collect and recycle. Left on the ground, it can accumulate in the soil and can cause a range of problems for agroecosystems. Shuqin hopes to find methods to avoid the plastic residues from entering the soil: "I feel a deep affection for farmlands, just like farmers. We have explored a new mechanism in Inner Mongolia, which allows farmers to use thicker films at lower costs". These films are easier to collect and recycle and, according to Shuqin, "this has become a win-win situation for everyone."
WHAT HAVE WE ACHIEVED IN 12 MONTHS?
 1. Replacing thin mulch film
 In 2015, only 60% of mulch film could be collected from farmland after use. New mechanisms have helped to increase this to 80% in 2020, but this is still too low to avoid plastic particles entering the soil and plants, which ultimately have an effect on people's health. Together with our partners, we tested three new types of mulch film that would enable an even greater rate of collection: two high-quality mulching films with different levels of thickness and one degradable film. This has resulted in remarkable ecological, social and economic benefits compared to the thinner plastic film: the increased thickness of the film not only led to a higher amount of film being collected, but also reduced the influence of the film on the farmland. Because it was easier to identify, the related time and costs of collection were lowered by over one third. Recycling the thicker material is also easier – e.g. recycled residual film can be processed into a briquette for fuel.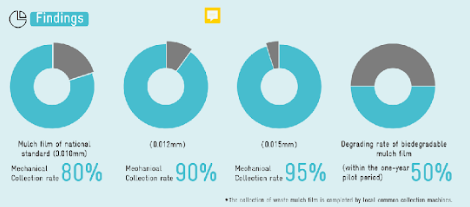 2. The power of many
 Beyond the farmers, we have involved actors at many levels to make this project a full life-cycle success: 
Producers that supplied the mulch film have taken responsibility for its collection and recycling. 

The government paid the price difference between the thinner and thicker film and supervised the pollution control. 

Researchers have contributed with knowledge and theoretical ideas.

Rural and village level organisations have learned more about environmental issues and strengthened the farmers from within their community. 
Based on our experiences, we have provided policy recommendations to the Ministry of Agriculture and Rural Affairs on the promotion of thicker mulch film in China. In 2022, a national subsidy was issued to support the use of 0.015 mm mulch film on 50 million mu (3.35 million hectare) of farmland, and an additional 5 million mu (0.335 million hectare) of farmland for biodegradable mulch film in China. 
BASED ON OUR EXPERIENCES, WHAT DO WE RECOMMEND TO OTHER PROJECTS?
Economic benefits are important to motivate farmers to use thickened agricultural film and to participate in its collection. 

Local authorities should be familiar with the basic situation of agricultural operation and of local farmers' levels of awareness. Close operation with local partners (such as village-level authorities and organisations) in rural areas will help reduce the environmental governance costs and improve rural governance capabilities. 

During the pilot project, the traditional mulch film waste management model has changed from: Mulch film use

🡪

yield increase

🡪

residue in the soil

🡪

open dumping or burying; to: Mulch film use

🡪

yield increase

🡪

collection and recycling. These experiences can be of use for the control of other agricultural waste streams.

International cooperation and exchange is important. The European experience of plastic management and agricultural waste management has been introduced during the pilot implementation. Based on the local situation in China, the pilot explored the new mechanism, which can be replicated in other Chinese cities. Chinese cases can also be promoted to international audiences.  
WHAT IS NEEDED TO CONTINUE THIS SUCCESSFUL PROJECT?
Collection machines need to be further developed and equipped with innovative technology to effectively promote the collection rate of mulch film and reduce costs.

Business models and solutions for mulch film recycling need to be explored further.

Monitoring methodologies need to be unified nationwide to ensure similar requirements and standards on mulch film plastic pollution control.

Financial support is needed. 
Implemented by: 
Research Center for Rural Economy, Ministry of Agriculture and Rural Affairs