Partnership for Plastic Waste Recycling
Fate was not kind to Siti Kusbandiah. When her husband died 20 years ago, she was left with no money or prospects for the future – and four children to raise. To earn a living, Kusbandiah turned to collecting waste.

She spent her days going through litter from neighbouring households and separating it by material: plastic, steel and paper. She sold each material based on the total weight. "I earned around 20,000 to 30,000 Indonesian Rupiah (€1.20 – €1.90) per day," she says. Informal waste collectors like Kusbandiah play a significant role in waste collection and management in Indonesia. They collect and separate 30% of the waste that is not covered by the municipal waste management service. Whatever is not taken care of by formal or informal waste workers is burned in the open or illegally dumped, often ending up in the ocean. Through this pilot project, we tested methods for improving the current system, enabling the various actors along the waste value chain to understand their role and cooperate better. Informal waste collectors partnered with recycling industries and communities – who learned to organise their waste responsibly. A new mobile app was developed to connect waste collectors like Kusbandiah with the surrounding households in Semarang, Central Java. "I am excited about using the app," Kusbandiah says. "It will make my day more efficient and reduce the time I spend going in and out of neighbourhoods."
WHAT HAVE WE ACHIEVED IN 16 MONTHS?
 1. Working together in clearer and better ways to manage waste 
 In Indonesia, the system for waste collection, sorting and recycling is complex. Informal waste workers, waste banks and recycling companies are all involved in various processes, but so far it has been challenging for them to collaborate effectively. In this pilot project, we have promoted central waste collection and segregation points, called TPS-3R facilities. Here, all waste is collected and sorted: plastic is sent to be recycled, organic waste is used as compost or animal feed, and only what's left goes to landfill. These facilities are also the point where the various actors along the waste value chain come together. We have organised information events and workshops for more than 11,000 waste pickers, waste bank operators and community members to learn to organise the flow of waste. While in the past, the different actors would do their jobs independently of each other, they now have a better understanding of their role in the overall waste management system and how to work together. By merging and synergising the local waste management actors, they able to work more efficiently and can handle a larger amount of waste – and therefore earn more. The staff at the TPS-3R facilities are financed by the revenue from selling recyclable materials and compost, along with contributions from the households. The data shows just how successful this approach is: not only did the service area for the waste workers increase – benefitting more than 18,000 community members – but the recycling rate also doubled compared to the baseline.
 2. Going digital for easier access
Specifically designed for waste collectors and buyers, the AMBILIN app is a digital marketplace for buying and selling waste. The app connects the different actors along the value chain. For instance, households who want to sell or donate recyclable materials are linked up with collectors or buyers of materials. AMBILIN makes price ranges transparent and records how much plastic of a certain kind is disposed of. It simplifies and speeds up waste services, the collection of recycled materials, and the donation of used goods in the community. 
"The more waste can be collected, the more we can save for recycling. The AMBILIN app will make the process of rubbish collection and management simpler, easier and more efficient."
Meifita Diha, The Bintari Foundation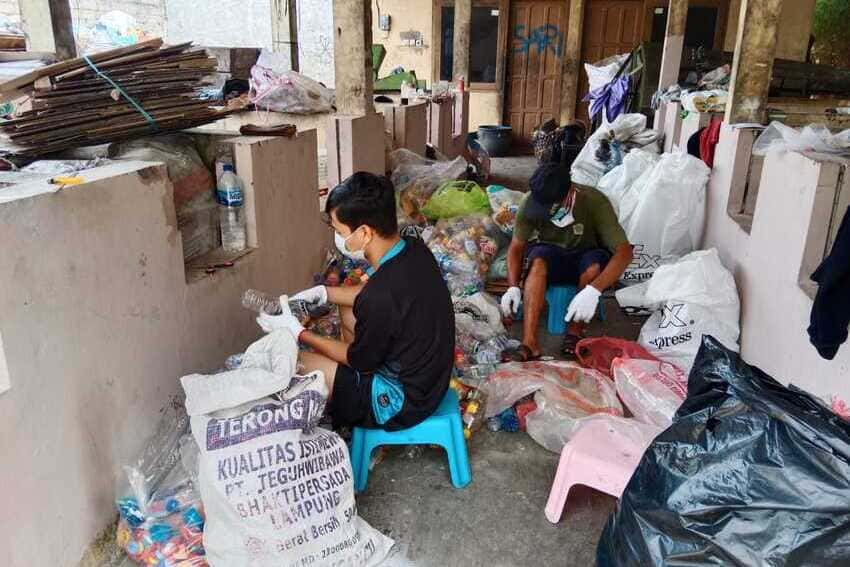 3. Better lives for waste workers 
 Informal workers play a big part in managing waste in Indonesia. But their role in the system is often not recognised. We organised training for 50 informal workers to better understand their position in the waste management value chain and their options for accessing finance from banks. They learned how to trade recycled material and benefit from an open recycled material price. To improve their working conditions, we provided driving safety training for the mostly motorised waste workers and equipped them with uniform jackets, helmets and ID cards. The results were clear not just from their increased confidence, but also from their income, as they could receive a better profit margin from the transaction of recyclable materials facilitated by the AMBILIN app.
WHAT ARE THE NEXT STEPS?
The approach is convincing but financial and governmental support is needed to sustain and expand the project's achievements and activities. As a first step, the implementing partner BINTARI has already secured further funding to continue teaching local community groups to manage solid waste. 

The digital waste buying and selling app

AMBILIN

currently focuses on its role as a marketplace. To ensure the sustainability of AMBILIN's operations, a revenue stream for AMBILIN must be found.

This project supports the readiness of the public and private sector in promoting and advancing the Extended Producer Responsibility (EPR) system in Indonesia. EPR is an environmental policy approach that makes producers take responsibility for their product's waste stage, including collection, sorting, recycling and final disposal. So far, the infrastructure to implement EPR is not set up by the government and participating parties (e.g. providing and preparing collection points for the EPR mechanism). The project contributed to a better understanding of EPR and local implementation. AMBILIN can support the implementation of EPR, as producers can use it for tracing data and finding partners/collection points for inorganic waste. 
Implemented by: Bina Karta Lestari (BINTARI) Foundation/ www.bintari.org
Related Documents
For more information on the partner:
www.bintari.org