Households Fit for Recycling
"Our garbage used to give off a terrible smell. It would mix with the chemical fumes from nearby farms until we couldn't tell them apart," says Sayan Rungrueng, a community-minded citizen from Rayong province. He used to complain to the local government, but nothing ever happened.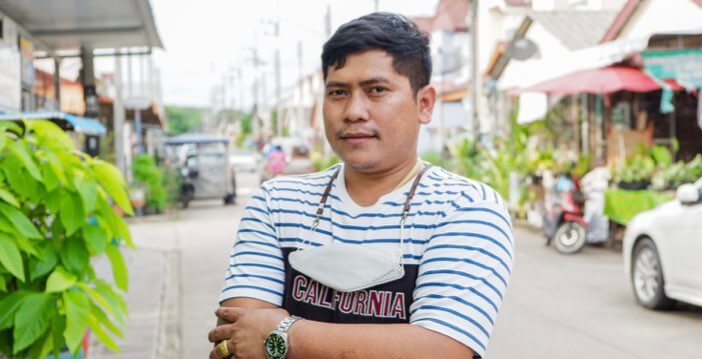 In the space of just three decades, Rayong had gone from a coastal fishing village lined with beautiful beaches to an industrial hub. The population grew from a few thousand to 25,000, and garbage became a serious problem. The local government and private companies were overwhelmed. "I started researching different types of plastic and how to handle organic waste. I printed out what I found and went knocking on doors to tell the other villagers about it myself," remembers Rungrueng. "People began to do their bit." But the community wasn't left to tackle the problem on its own. The Rethinking Plastics project started working with the local community, schools and other actors in the plastic value chain in Rayong in order to improve the segregation and collection of plastic waste. The overall goal of the project was to increase recycling and reduce plastic leakage into the ocean. Rungrueng can see the difference: "Before, the municipality wouldn't get to the bottom of our rotting garbage cans no matter how much they collected. Now, we make money, and we get a lot of attention as a model community because of how we managed the situation."
"Reducing, reusing and recycling plastics is high on the agenda. Transitioning to a circular economy for plastics – where resources are used and managed in a more efficient and sustainable way – is more necessary than ever. I am very glad that we are seeing a lot of effort in this regard not just at local level here in Rayong or at national level in Thailand, but also regionally and internationally. This pilot project helped to analyse key actors in the recycling network, evaluate the state of plastic waste management, develop and implement technology that would facilitate and encourage improvements, and increase awareness and behaviour change by providing information, materials and training. The ultimate goal is to change Rayong's environment for the better and contribute to Thailand's overall development."
Dr Giuseppe Busini, Deputy Head of Mission, Delegation of the European Union to Thailand
WHAT HAVE WE ACHIEVED IN 18 MONTHS?
1. Waste separation with the right know-how and infrastructure
Reduce, reuse, recycle: By sticking to the three Rs, communities can help avoid plastic material from being produced in the first place. Where it's not possible to reduce waste, plastic materials can be reused – without the need for further processing – or recycled to make the same or different products. This is known as "closed loop recycling". To enable this, we need to improve the separation of plastic packaging waste. Everyone can play their part. We organised events for communities to make sure they knew how to separate waste at home. We set up plastic drop-off points, a community waste bank and a plastic waste management centre. And we trained more than 100 waste collectors and waste separation workers in the correct use of the facilities. All these activities helped increase the collection rate of plastic packaging waste by 63% during the project implementation period.
2. Guides boost understanding 
How do you correctly sort and store plastic bags, films, cups, bottles and containers? Sorting materials into the appropriate waste stream is difficult, but it is vital for improved waste management. To make this easier to understand and ensure people participated correctly in the process, we developed two guides for waste collectors, waste recyclers, households, the municipality, schools, markets and hotels in Rayong province. 
While the first guide explains how to sort, store and transport different types of plastic waste, the second focuses on the proper disposal and recycling of plastic packaging waste after it has been collected from households or kerbside bins. It provides information on how to sort the separately collected or recovered plastic packaging waste by type of plastic. This is then sold to recycling facilities. 500 copies of the guides have now been distributed – representing a first step in managing the plastic waste problem in Rayong, and setting an example for other cities in Thailand. 
3. Engineering prototypes: Crushing and cleaning plastic packaging
Chulalongkorn University has built prototypes of small plastic waste compactors, which have been  installed in three communities. The compactors crush plastic bottles and packaging into cubes. Using this method, the communities save around 28 m2 of storage space per tonne of waste. This also makes transportation easier: trucks taking plastic waste from the communities to the recycling points can carry many cubes at once and their loading capacity is increased by up to 1,000 kg. 
We also installed a small-scale cleaning machine in a school where every child receives a small bag of milk each day. Previously, the school would rinse and dry 800 to 900 bags manually so that they could be recycled, which was extremely time-consuming and used a lot of water. The cleaning machine provides a quick solution: the milk bags are thrown into the machine, where they are rinsed out in half the time using one third the amount of water compared to manual cleaning.  
 4. National policy on Extended Producer Responsibility
The project has contributed to Thailand's potential long-term approach to Extended Producer Responsibility (EPR). EPR is an environmental policy approach whereby producers take responsibility for their product's waste stage, including collection, sorting, recycling and final disposal. It is currently being discussed in the country. With our project, we informed local stakeholders in Rayong about the concept and discussed possible opportunities and challenges with them. We looked at three EPR options: full producer responsibility, partial opt-in and municipal reimbursement. Conversations with the community showed that in their opinion, sharing financial contributions and responsibilities among producers and local municipalities was the most suitable EPR model. This has been communicated to the local government for further follow-up.
WHAT ARE OUR RECOMMENDATIONS FOR OTHER PROJECTS?
Successful

plastic waste collection, sorting and recycling

at

local level

involves

strong network

s

,

good leadership and

high motivation

among government agencies and private companies. Key actors in the project are waste collectors, who collect and sort the waste, and local government, who is responsible for implementing policies and directives from central government to the service of the local community.

It is important for actors along the waste value chain to share information, know-how and data. This involves establishing p

artnerships and networks among civil society

, and the

public and private

sectors

.

S

hared

data management could be the responsibility of government authorities, who could also use the data for policy development and evaluation. 

Correct waste separation at household level is vital – and complex. Many people struggle with it. To ensure participation, regular awareness raising campaigns for communities and government agencies are needed. Activities can be conducted in person or online on Facebook, Line or YouTube. 

Most plastic waste is sorted by hand; however, technology is developing fast. To continue this trend, research activities need continued funding and facility support. 

Setting up and implementing EPR has to involve all actors along the recycling value chain.
Implemented by: Faculty of Engineering of Chulalongkorn University 
"We may not be the most famous school in Rayong, but our students are well known for their environmental awareness. We are proud of that. This year we were shocked that our school wasn't shortlisted as one of the best green schools. But then they told us we had topped list so often that they had removed us and made us a model school instead."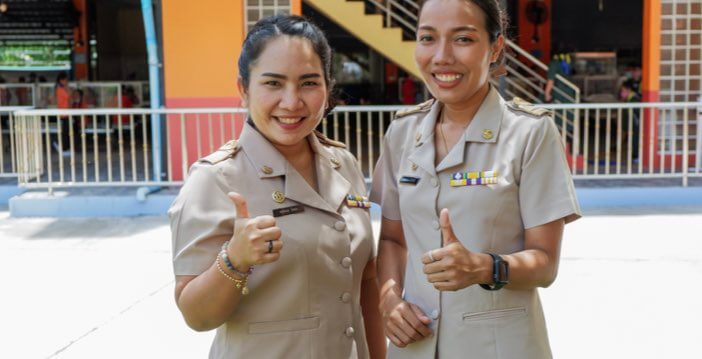 Kru Maem and Kru Oen, teachers at Wat Lum Mahachai Chumpol School