"Take Pinto" – Plastic Packaging-free Restaurant Model launched in Phuket
On 21 September 2021, the Phuket Environmental Foundation launched a Plastic Packaging-free Restaurant Model with 15 restaurants at the Prince of Songkla University, Phuket Campus to move to sustainable packaging for food delivery and take away.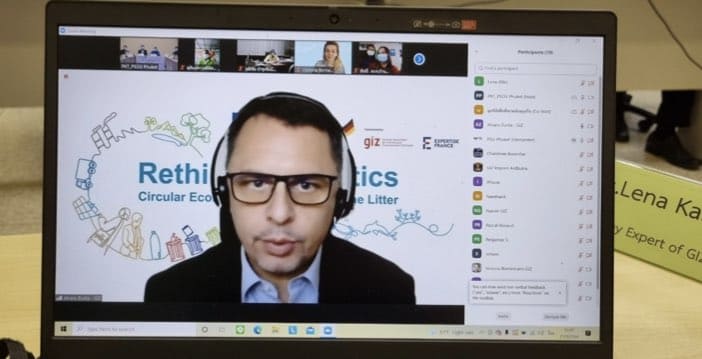 Alvaro Zurita, Team Leader 'Rethinking Plastics'
On this occasion, 14 organisations signed a Memorandum of Understanding (MoU) to work together towards a more sustainable and plastic packaging-free island under the project "Less Plastics in Phuket: Reduction and better Plastic Waste Management in Households and Businesses", which is one of the 'Rethinking Plastics' pilot projects in Thailand. The signees include the Governor of Phuket, six local municipalities (Phuket City Municipality, Rawai Subdistrict Municipality, Chalong Subdistrict Municipality, Rassada Municipality, Wichit Municipality, Patong Municipality), the Phuket Provincial Office for Local Administration, the Phuket Provincial Health Assembly, the Regional Environment Office 15, the Phuket Provincial Public Health Office, the Phuket Provincial Office of Natural Resources and the Environment and the Phuket Environmental Foundation.
During the hybrid event, with participants joining both on location in Phuket as well as online, Mr. Narong Woonsiew, Governor of Phuket thanked the project partners and highlighted:
"In order to help Phuket be sustainable and beautiful island we need to reduce plastic. Take Pinto is a great initiative."
Under the Plastic Packaging-free Restaurant Model, an initial number of 15 restaurants will replace single-use plastics packaging by applying for example Pintos, the stacked food boxes used in Thailand.
"We aim that more restaurants join the model in the next months. In addition, we work with schools, hotels and communities on the island to reduce plastic waste", outlined Mr. Viroj Phutong, Chairman of the Phuket Environmental Foundation.
Mr. Alvaro Zurita, GIZ Team Leader of the "Rethinking Plastics" project said: "The project in Phuket is a great opportunity to work jointly on solutions, to test new approaches and to learn from good practices and I am looking forward to continue the activities and exchanges on this very important topic."
Links:
นายณรงค์ วุ่นซิ้ว ผู้ว่าราชการภูเก็ต กล่าวเปิดตัวร้านอาหารลดบรรจุภัณฑ์พลาสติกภายใต้แคมเปญ Take PINTO - YouTube
15 ร้านอาหารนำร่อง ลดบรรจุภัณฑ์พลาสติกภายใต้แคมเปญ Take PINTO - YouTube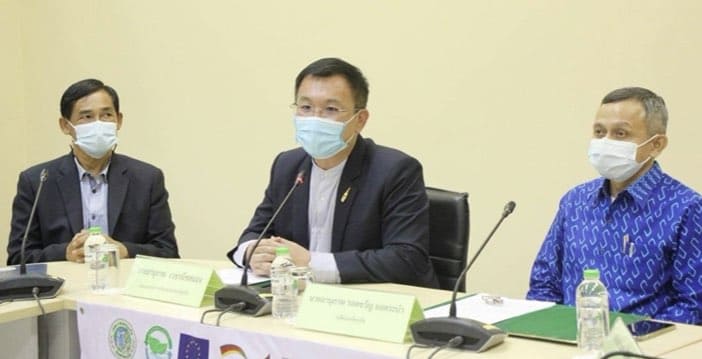 Mr. Viroj Phutong, Chairman of the Phuket Environmental Foundation; Mr. Anupap Vejvanichsanong, Deputy Chief of Phuket Provincial Administrative Organization (PAO) and Mr. Anuparp Rodkwan-Yodrabam, Deputy Governor of Phuket (from left)