Vietnam: Kick-off workshop of pilot activities
Beginning of April 2021, the Vietnamese Ministry of Natural Resources and Environment (MONRE), the Delegation of the European Union to Vietnam and 'Rethinking Plastics' co-organised a Kick-off workshop of the pilot activities under the project.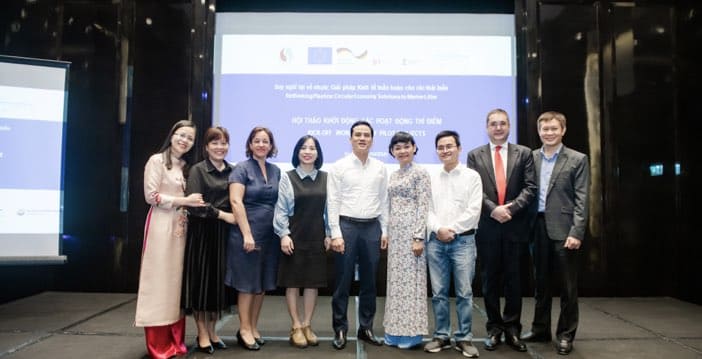 The workshop presented the joint work on policy development and four new pilot activities, which will contribute to tackle the plastic waste challenge in three different provinces and cities. They aim at reducing the amount of plastics, which end up untreated on land and in the oceans and will focus on reducing and avoiding plastic waste and to better segregate, collect, sort and recycle it. During the workshop, the pilot activities in Ho Chi Minh City, Hanoi, and Phu Yen Province were further introduced jointly with the non-profit organizations in charge of their implementation.
The four pilot activities are:
Enhancing the plastic packaging collection, sorting and recycling in Ho Chi Minh City implemented by the French Research Institute for Development(IRD) and Hanoi Architectural University: In Ho Chi Minh City, the pilot aims to increase the collection, sorting and recycling of plastic packaging in two districts (Nha Be and District 3). With its experiences, the pilot contributes to the development of an Extended Producer Responsibility (EPR) system for packaging in Viet Nam.
An innovative initiative to establish the alliance of supermarkets to reduce the consumption of single-use plastic bags in Viet Nam (Plastic Alliance Project) implemented by Institute of Strategy, Policy on Natural Resources and Environment (ISPONRE) in Hanoi: Free of charge single-use plastic bags are still available in a lot of shops, markets and supermarkets. The pilot project encourages to reduce and replace single-use plastic bags through an alliance of committed retailers and awareness raising activities in Hanoi.
Ship Waste Management in Vietnamese ports in Cat Lai Port implemented by Expertise France and Viet Nam Maritime Administration (Vinamarine) in Ho Chi Minh City: An efficient ship waste management is key to reduce illegal dumping of ship waste into the sea. To meet standards and best practices from ports around the world, existing regulations and operations at Cat Lai port (Saigon New Port) are assessed and improved.
Fishing for Litter: Promote a scheme for the voluntary collection of plastics marine litter by fishermen community implemented by Expertise France and Viet Nam Fisheries Society (VINAFIS)in Phu Yen province: The local fishing community gets support to build a team of volunteers who collect and bring back waste caught while fishing.
In addition to the pilot activities, the Ministry of Natural Resources and Environment also cooperates with 'Rethinking Plastics' and relevant agencies in the further development of key policy strategies for reducing and better managing plastic waste, e.g. the Extended Producer Responsibility (EPR) approach. The achievements so far as well as next steps were also presented at the launch event.
During the workshop, Mr. Pham Phu Binh, Director General of the International Cooperation Department of the Ministry of Natural Resources and Environment thanked all EU partners, the Federal Republic of Germany, and Expertise France for accompanying the Ministry of Natural Resources and Environment to tackle plastic pollution, and remarked: "The Vietnamese Government in general and the Ministry of Natural Resources and Environment in particular, have strong political commitments, affirming that we always give high priority on finding both short- and long-term solutions to reduce plastic pollution and foster economic development towards the circular economy approach. In December 2020, the Prime Minister signed the Decision No 1746/QD-TTg promulgating the National Action Plan on marine plastic debris management with a vision to 2030. The 'Rethinking Plastics' project can be an important contribution to support the implementation of National Action Plan and help Viet Nam achieve its goals. Experiences and lessons learned from project implementation and pilot activities will serve as a basis for replicable examples, and aim to inform policy development initiatives".
"Plastic waste concerns us all. We must move towards a circular economy for plastics - an economy in which resources are used and managed more efficiently and more sustainably",
agreed Mr. Rui Ludovino, First Counsellor, Climate Action, Environment, Employment and Social Policies at the Delegation of the European Union to Vietnam. "Through the 'Rethinking Plastics' project we work closely with Vietnam to prevent marine plastic litter and share regional and European experiences, such as from the European Green Deal and the EU Plastics Strategy. The four new pilot activities complement these joint efforts towards a circular economy with concrete actions and experiences from the local level, involving the communities and households, local businesses and administrations. We hope that they can serve as best practices and inspire future initiatives and policy development. I am very happy to meet all the project partners here today and wish the pilot activities a successful implementation."
After the presentation of each pilot activity, all participants gathered to exchange experiences and recommendations for the upcoming implementation period.