Engaging the Fishing Community in Plastics Collection
Ong Huyunh Duy Tung is a fisherman in Phu Yen. When hauling in his nets, he finds more and more waste every day. He worries: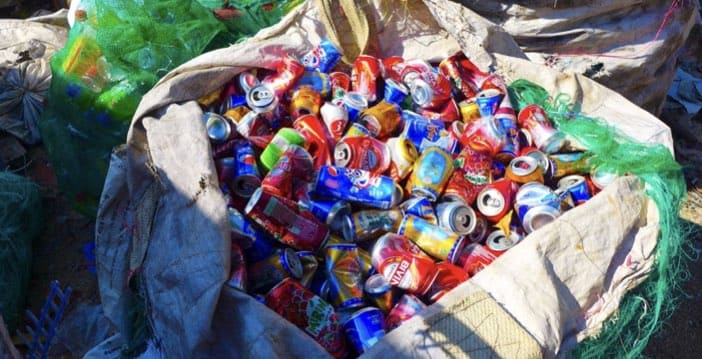 Film Phu Yen
"If we continue to discharge waste into our seas, without having any solution, our descendants' lives will be affected in the future."
He was excited to learn that he could became part of the solution: this pilot project created a scheme for the voluntary collection of marine litter by local fishermen and fishing communities. Fishing ships' crews bring waste they have collected to the fishing port, where it is first weighed and monitored before being moved to disposal or recycling. Tung is convinced:
"With the right funding, all fishermen will be motivated to join this initiative. It needs to be made clear to all fishermen that no littering makes our sea greener, cleaner and more attractive."
WHAT HAVE WE ACHIEVED IN 14 MONTHS?
Fishing communities on board

 

"I collect marine waste – for a cleaner sea and more fish."

Ong Huynh Van Nhut, fisherman in Phu Yen

Together with our partners, we reached out to fishing communities to discuss the harmful effects of waste to the sea. Local fishermen and women learned more about the role they could play to make a difference and started collecting waste when at sea. With equipment provided by the project, 37 ships have collected and delivered more than 6,000 kg of marine waste within the project's 14-month timeframe. The fishing workers found waste produced by ships, as well as waste that originated from shore. In their nets, they untangled mostly plastic, but also rubber, metal, textiles and hygiene waste. While no direct financial compensation was paid for their work, they sold the plastic waste they collected to recyclers for further processing.

"We classify waste into two categories: recyclable and non-recyclable. For the recyclable ones, we contact the collectors. This way, the waste can be recycled into products that are useful for life. For non-recyclable waste, we work with the local environmental service for disposal according to regulations."

Ong Ha Vien, fisherman

More information – better engagement

This project was based on the voluntary contribution of the fishing communities. In seminars, they learned about the harmful effects of plastic and non-degradable hazardous waste to aquatic plants, animals and also humans. Afterwards, many were motivated to join the activities. Signboards reminded the fishing communities of what has been learned and t-shirts with specially designed logos showcased their engagement to others.

Feeding back into national waste management plans

 

 

 "The awareness of the local fishermen about marine environmental protection has been significantly increased. Captains and crew members have changed their behaviour, collected and delivered waste. We expect to replicate the approach and methodology in the three other ports of the province."

Ha VIEN, Department of Agriculture and Rural Development of Phu Yen, Authority of fishing port

Vietnam has the fourth-largest fishing industry in the world, which accounts for millions of jobs. The project's findings can help to re-think waste management on a larger scale. Replicating this initiative in other ports and provinces could support Vietnamese waste management goals.

"This pilot project contributes actively to the implementation of the Action Plan on marine plastic waste management for the fisheries sector, 2020-2030 period. With this, we aim to reduce plastic waste in fisheries production, gradually manage marine plastic waste from source to the sea, develop a circular and green economy; raise awareness and social responsibility of farming communities, fishermen, and plastic waste businesses. This contributes to the successful implementation of the National Strategy on integrated solid waste management."

Nguyen Thi Phuong DUNG, Department of Science, Technology and International Cooperation D-FISH, MARD
WHAT ARE OUR RECOMMENDATIONS AND NEXT STEPS FOR THE FUTURE?
Incentives for fishermen can ensure their engagement in collecting marine litter and bringing it to the port, where it can be sorted, recycled and properly disposed of.
Replicating this project in other ports and provinces will help waste management on a larger scale.
Experiences and data can contribute to the Vietnamese National Action Plan for Management of Ocean Plastic Waste in the Fishery Sector, period 2020 – 2030.
Implemented by: Society of Fisheries (VINAFIS) and Expertise France in cooperation with the Directorate of Fishery under the Ministry of Agriculture and Rural Development (MARD) and the Fisheries Technology and Services Center of Vietnam (FITES)
Website: https://vinafis.com